This Easter, the Project Wasteless, the national food waste prevention programme of Hungary is launching its Easter Greening competition again. The aim of the competition is to increase awareness on reducing food waste, to promote the waste hierarchy concept and to highlight the significance of responsible animal keeping as the festive season approaches.
Food is an essential aspect of Easter celebrations for Hungarian families, making it crucial to address the issue of food waste. Hence, Project Wasteless based its Easter competition around unique Hungarian traditions, including egg painting and sprinkling.*
The goal of the Easter Greening competition is to encourage food waste-free celebrations and responsible animal care. In addition to preventing food waste, the Project Wasteless intends to raise awareness on the fact that the majority of the unavoidably produced food waste in our household (e.g. peel of fruit and vegetables, coffee grounds) could be recycled in an environmentally conscious manner. Composting has already become popular in Hungary**, and some elements of food waste can also be utilised as feed for livestock and pets. For instance, vegetable scraps and fruit peels can be added to the dry feed of rabbits and poultry.
This year the competition also aims to raise awareness of responsible animal keeping. At Easter, many people still give rabbits and chicks as Easter presents. This is well advised only for those who are aware of these animals' needs and prepared for a longer commitment as a pet owner. Zoltán Hanga, spokesperson for the Budapest Zoo and Botanical Garden was invited to be a guest expert on this topic, and will be sharing useful information and advice on Project Wasteless' social media platforms: Facebook, Instagram, Tiktok.
The competition is open to anyone between 0 and 120 years of age in four categories:
Sustainable egg painting with food scraps
Easter poem writing with food waste theme
Chicken beauty contest (photo of animal, which is treated well and eats food waste)
Bunny beauty contest (photo of animal, which is treated well and eats food waste)
Based on public voting, the most creative applications will be rewarded with valuable gifts, which are provided by the stakeholders of the project.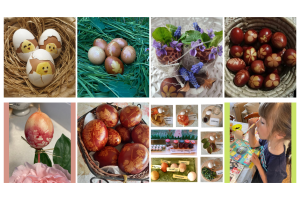 Applications from 2022 can be seen at the following links:
*The Hungarian Easter sprinkling tradition involves boys and men playfully sprinkling perfume or water on girls and women on Easter Monday. In exchange for being sprinkled, girls give decorated eggs and traditional Easter treats, such as homemade cakes or chocolates. The sprinkling is accompanied by reciting a poem, which varies depending on the region of Hungary. The tradition is a way of celebrating the arrival of spring and new life, and it also symbolizes good luck and fertility.
**Kunszabó, A., Szakos, D., Dorkó, A., Farkas, C., & Kasza, G. (2022). Household food waste composting habits and behaviours in Hungary: A segmentation study. Sustainable Chemistry and Pharmacy, 30, 100839.